Veteran's Promise
Toyota of Scranton is proud to support Veterans Promise NEPA. 

Veterans Promise mission is to assist and advocate for Veterans and their families, in obtaining services, support and raising awareness for Veteran suicide prevention.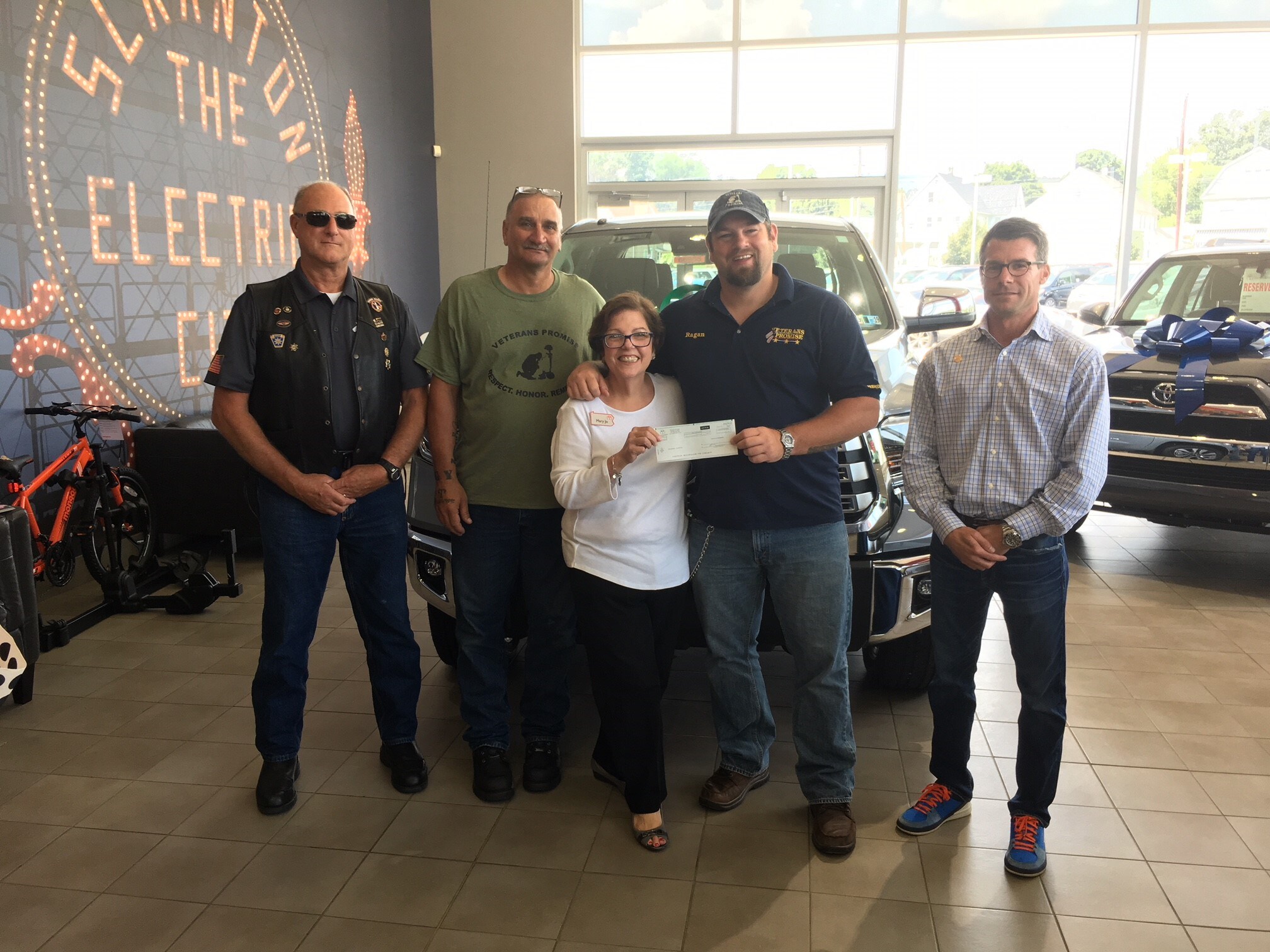 Pictured, left to right: Ray Stender Veterans Promise, Bill Snyder Veterans Promise, Mary Jo Preno, Toyota of Scranton, David Ragan, Veterans Promise, Andrew Weinberger, Toyota of Scranton
IHM Foundation
Toyota of Scranton is honored to support the 2018 IHM Sisters Celebration.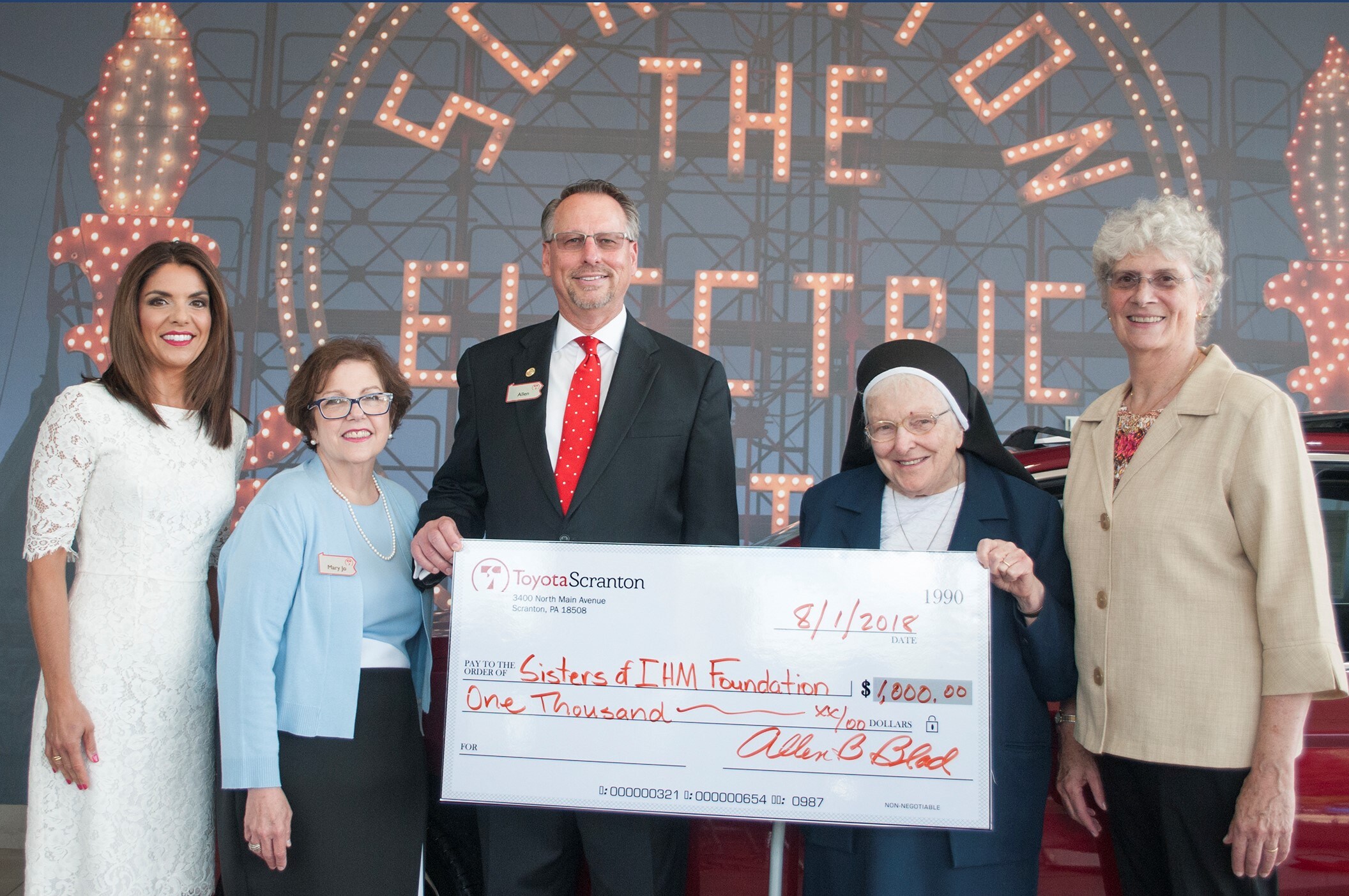 Pictured are, from left to right, Paola Giangiacomo, Mary Jo Preno, Allen Blad, Sister Thomas Mary Dougherty, Sister Ann Monica Bubser 
August 2018 Events
August 18 ; 9:00 AM to 10:00 PM
Location: Whitewater Challengers
Address: 288 North Stagecoach Road, Weatherly, PA 18255
In celebration of LGBTQ+ Pride we are offering our group rate to all individuals booking the Pocono Pride Rafting or Biking Trip. Choose from three different activities and bring your friends for a day filled with adventure.
Book an exhilarating Premier Whitewater Rafting option for class 2-3 rapids and 3-4 hours of fun in the Lehigh Gorge State Park. Never tried rafting before? Book the Family-Style Rafting option with milder rapids and fun swim stops. For those of you that prefer a land based activity we also offer self-guided rail/trail biking trips (opt to use our bikes or bike your own).
All event participants receive a free Pocono Pride event t-shirt and great discounted rates! We are excited for another year of celebrating with the LGBTQ+ community.
Train Excursion: Scranton to Tobyhanna
August 25 ; 11:00 AM to 3:00 PM
Location: Steamtown National Historic Site
Address: 350 Cliff St, Scranton, PA 18503
Steamtown returns to the high iron, and the Pocono mainline of the former Delaware Lackawanna & Western RR. Today's train heads to the peak of the Pocono plateau, in the village of Tobyhanna.
During the 90 minute layover, you can explore a part of the region's history, or watch the locomotives prepare the train for the return to Scranton.
Light refreshments are available at the 1908 train station, provided by the Pocono Mountains Chapter of the National Railway Historical Society. They also will have some of their model railroad layouts operating.
TICKET PRICES:
(include admission to Steamtown's grounds and museums)
$34.00 for adults, aged 16 - 61
$29.00 for seniors, aged 62 and up
$22.00 for children aged 6-16 | Under 6 tickets are no charge
Co-Op Farmers Market
July 20, 2018 - November 21 ; 12:00 PM to 6:00 PM
Address: 900 Barring Avenue, Scranton, PA
The only open-air seasonal market of its kind in Northern Pennsylvania that is solely owned and operated by the farmers serving you.
The market success for over 75 years can be attributed to the fact that they are strictly a grow-your-own market, bringing fresh foods direct from the farms to you! When you shop with them, you buy directly from a farmer. Their produce is always fresh picked and homegrown.
Home Grown~Fresh Picked Vegetables, Fruits, Meats, Baked Goods, and much much more!