Top 3 Reasons Why Toyota of Scranton is Perfect for Wilkes Barre Drivers
1. Toyota of Scranton is one of the most conveniently located Toyota dealerships serving Wilkes Barre. Depending on your exact location, you are only a mere 15-30 minutes drive away.
View Larger Map
 - Head north on Public Square toward N Main St
- Turn left to stay on Public Square
- Turn right onto E Market St
- Turn left onto Wilkes-Barre Blvd
- Take the ramp onto PA-309 S
- Continue onto PA-115 S
- Take the exit on the left onto I-81 N toward Scranton
- Take exit 190 toward Dickson City/Main Avenue/Johnson College
- Turn left onto Main St and you will see Toyota of Scranton on your left at 3500 N Main Ave.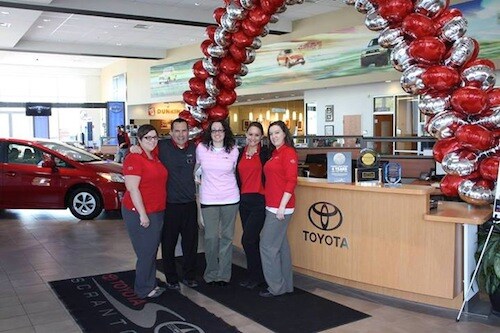 2. We are one of the most accommodating Toyota dealerships in the area. Our Collision Repair Center serving Wilkes Barre has its very own Dunkin' Donuts, free WiFi, and plenty of room to comfortably work on your laptop. We help you never miss an important deadline due to car troubles, and even will take you to your office with our complimentary transportation. You are also provided with convenient drop-off/pick-up hours as we are open 8:30am-8pm Monday through Thursday, 8:30am-6pm Friday, and 8:30am-5pm Saturday. Feel free to save yourself some time and schedule online!
3. Toyota of Scranton is a highly praised dealership. The Toyota Motor Corporation has awarded our dealership with the prestigious Toyota President's Award for excellence in sales, service and customer satisfaction in 2009, 2010, 2011, and 2012.
These are only the top few reasons why we are a convenient Toyota dealership serving Wilkes Barre. Toyota of Scranton invites you to experience our dealership for yourself, and encourages you to leave a review for our service. If there is ever an issue we will gladly resolve it simply call (570) 489-7584.