YOUR OWN PERSONAL TSS SERVICE PROFESSIONALS
Our Service Professionals are here to help. They are a vital resource to help you maximize your vehicle's routine maintenance. By helping to identify major mile service intervals, your Service Professional will help protect your vehicle and your investment.
At Toyota of Scranton, all of our Service Professionals are factory trained by Toyota and held to the highest standards for customer service. More importantly, our Service Professionals are people you can trust to provide you with the most comprehensive service. They'll help you explore all of your options in choosing the right services and ensure you get the best overall experience.

TOYOTA OF SCRANTON FACTORY TRAINED TECHNICIANS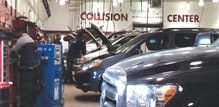 Our technicians are trained to work on all makes and models of vehicles, not just Toyotas. They are required to pass rigorous training standards on current and past models. You can be sure that Toyota of Scranton will perform the best maintenance possible for your vehicle. We feature Factory Certified Master Technicians that have more than 20 years of automotive experience. Our technicians are also ASE (National Institute for Automotive Service Excellence) trained. This superior training gives you the peace of mind that comes standard with our work. Whether you own a Toyota or any other brand, make Toyota of Scranton your first choice for service that's second to none.

COMFORTABLE TOYOTA OF SCRANTON SERVICE WAITING AREAS
Toyota of Scranton understands that servicing your vehicle competes with many other important tasks that you need to accomplish in your day. That's why we created a functional waiting area that enables our service customers to have a comfortable w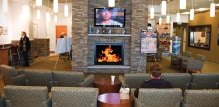 ait during their service experience. Our waiting area helps deliver a paramount customer experience. Enjoy a double-sided fireplace, seating for more than 40 customers and the convenience of free Wi-Fi, if you wish to bring a laptop computer with you. As an added bonus, we are the only Dealership in the US that offers a Dunkin Donuts right in our customer area. Forget the stale coffee with instant creamer! While you're waiting for your vehicle to be serviced, you have the best variety of refreshments to choose from. For your convenience, we also offer complimentary transportation to your home, work or even the local shops and restaurants, within a reasonable distance from the dealership.
Upon arrival at Toyota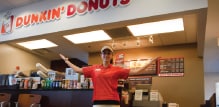 of Scranton, we offer an enclosed drive-in facility to keep you out of the elements. Our service porters will place protective mats on your floorboards to safeguard the interior while we service your vehicle. Our factory trained Service Advisors will then inspect your vehicle, checking your tires and the overall condition of the exterior. Toyota of Scranton will also provide you with a free, complete multipoint inspection that will give additional information to help us properly maintain your vehicle. The multipoint inspection report is simple: areas of immediate concern are in red, items that will need attention in the near future are in yellow, and items highlighted in green are not a concern. Once we've completed a full inspection of your vehicle, we'll sit with you and discuss all of your options one-on-one.
Overall, we make sure that your experience at Toyota of Scranton is enjoyable and relaxing. It is our goal to provide you with a sense of assurance when it comes to the performance of your vehicle.
Your vehicle will receive factory standard service AT OR LOWER than what you are already paying elsewhere! Plus, when you come in for an oil change, you'll receive a FREE car wash!
SATURDAY SERVICE
At Toyota of Scranton, we listen to our customers to guarantee that we're meeting your needs as best we can. So when you told us that we needed to have service hours on Saturdays, we listened! We are now open on SATURDAYS, from 7am-2pm. We encourage you to make an appointment by phone, or on our new online scheduling system to avoid unnecessary waiting.

TSS TIRE CENTER
Toyota of Scranton has HUNDREDS of tires in stock, at the lowest prices you'll find anywhere in the area! Not sure you're getting the best deal? We go out of our way to comparison shop for you. We price our tires competitively, saving you time and money. We carry brand names like Yokohama, Dunlop, Goodyear, BF Goodrich, Michelin, Bridgestone and more. When you get tires from Toyota of Scranton, you can buy with confidence and know you will get:
Complimentary Multi-Point Inspection
Lifetime Courtesy Rotations
Complimentary Alignment Check
One Year Roadside Assistance Package
Complimentary Upgrade to Nitrogen Fill
Complimentary Car Wash
24-Month Road Hazard Coverage
(100% coverage for the 1st year, 50% the second year and $20 flat tire repair coverage per instance)

TOTAL TOYOTA SERVICE

Above all, we want you to know that at Toyota of Scranton we do our best to save you time and money. We provide fast, efficient service and the most cost competitive prices in the market. We invite you to come in and meet our team and try the service that thousands of customers in the region are already using to service their vehicles.