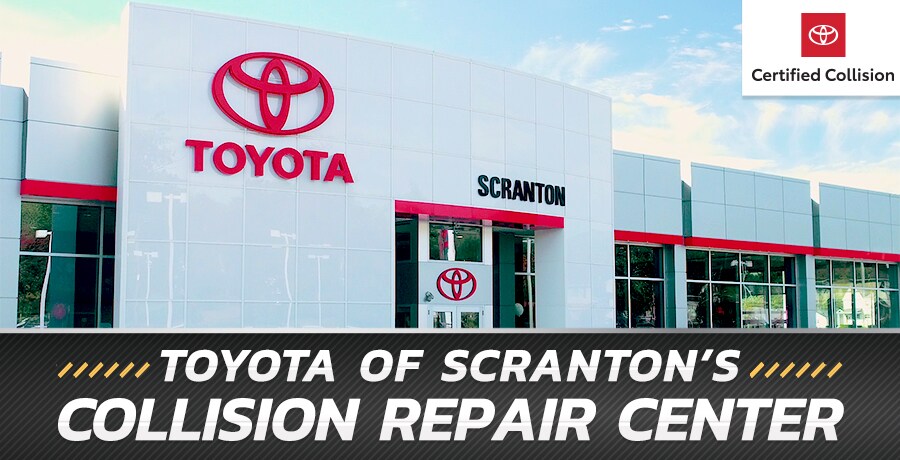 Car Repairs at the Toyota of Scranton Certified Collision Center
Overview

Need immediate auto body repairs? The fully equipped Certified Collision Center at Toyota of Scranton operates closely with insurance companies to ensure that your vehicle gets back on the road as soon as possible. When it comes to caring for your car, our Toyota dealership in Scranton, PA, is standing by.
We use some of the most innovative technology available, including our water-based paint system. New paint jobs are now finished in hours, not days, and we can match any color and trim. Whether you've been involved in a minor fender-bender or a more serious collision, our experts can handle it. It doesn't matter if you bring in a Toyota Highlander, Tacoma, RAV4 or another model, we'll be able to get the job done.
The Toyota of Scranton Collision Center can handle a wide range of different repairs. From spraying paint to replacing different parts, we will make sure the job is done well and that you can drive off in a timely fashion. To learn more about the services we provide, contact our body shop in Scranton, PA, to talk with one of our staffers!
FAQS
A car is a huge investment, so we understand you probably want to ask some questions before you can trust us with your vehicle.
Q: What forms of payment do you accept?
A: We accept a variety of debit and credit cards including Visa, Mastercard, Discover and American Express. We also accept personal and business checks.
Q: How can I schedule an appointment?
A: You can schedule an appointment by calling us at 888-340-1539 or by filling out our contact form online.
Q: How often are you open?
A: Six days a week, and always accepting appointments.
Q: What makes and models do you service?
A: We specialize in maintenance and repairs on Toyota models, but are experienced in servicing all makes and models.
Q: If something goes wrong with one of my repairs what should I do?
A: Although we are confident this will not happen, you can contact us with any concerns you have and we will happily take a look at your vehicle to see what the issue is.
Q: Why should I come to you with my vehicle repairs?
A: We understand that needing vehicle repairs can be stressful, and that you have a variety of repair shops to choose from. That is why we offer our service with 100% transparency and communication. We will let you know exactly what we're going to do before we do it, and you can easily look up the status of your repairs 24 hours a day through our website. Our expert technicians are well trained and care about getting your car back on the road safely.